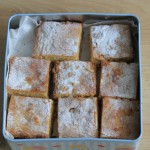 Who doesn't like chocolate? Actually I don't know anybody who doesn't like. One of my favorite cakes is Brownies, but sometimes I like to try other options, like this cake, I call blondies because 2 of the basic ingredients are replaced, I use white chocolate and almonds, a delicious combination, perfect for a school treat or just to treat yourself with something very sweet. The ingredients you need for a 26 x 26 cake are:
75 gr. butter (unsalted)
400 gr. chopped white chocolate
90 gr. caster sugar
3 eggs
200 gr. self-rising flour
2 tsp. vanilla extract
100 gr. almond
Icing sugar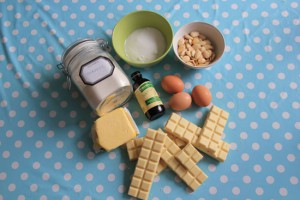 First of all grease the baking tin and cover with baking paper. Melt the butter with 300 gr. of the chocolate in a bowl, this one put in a pan with slow boiling water, the bowl must not touch the water, keep stirring to avoid crumbs.
Chop the almonds, not very small that way you have some bite on the cake. Then in another bowl mix the eggs, vanilla and sugar, it is much easier if you use a mixer, also gives a bit of lightness to the cake.
Add the chocolate mix to to the eggs and scoop lightly the flour. Then add the rest of the chocolate and the almonds. Don't take to long mixing otherwise you will loose the lightness that you have got from the eggs.
Put carefully the dough into the baking tin, make sure is well divided. Bake in a 175 degrees preheated oven for about 25 minutes, until you get a nice crust on the top. Take out of the oven and let it cool down completely before taking out of the tin. Cut in pieces and sprinkle with icing sugar. You can keep the cake for about 4 days in a good air-tight tin. Once you make it will become a favorite. Enjoy!