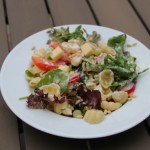 When the days are getting warmer there is nothing better for lunch or dinner that a good nutritious salad. They are very easy to make and with a lot of combinations of course, and because I grow some veggies in my own garden it is just fantastic. The rocket leaves and the radish are now on their best, really tasty and full of vitamins specially because I only pick them up just an hour before we are about to eat, so fresher you can not get. 
For this salad for about 3 people you need:
250 gr. pasta
Mix of salad leaves (rocket, lollo's, spinach)
4 spring onions, in rings
6 radishes, sliced
4 tomatoes
50 gr. pine nuts, roasted
1 tbs. capers
75 gr. cheese, diced
100 gr. chorizo, diced
1 handful chopped chive
150 ml. greek yogurt
Extra verge olive oil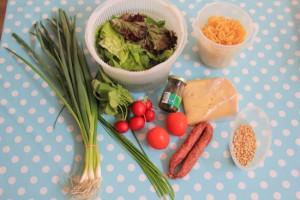 First prepare the pasta following the instructions of the package, you can use any kind that you prefer, I had just enough shell pasta, organic and delicious. Of course you can make it even healthier if you use whole-wheat pasta, it is all up to you. You can eat a bit warm or just cold, it is all up to you, we had it a room temperature.
Wash the salad leaves very well with running cold water, even if you grown them. I didn't put a quantity of salad leave in the ingredients list because it all depends on how much do you want to eat, I think we had about 150 grams, but actually I didn't weight. Make sure the salad leaves are well dried, use a centrifuge is you have one.
In this salad I had a yogurt dressing, very easy to prepare, in a big bowl put the greek yogurt, greek yogurt is richer in taste, 1.5 tbsp extra verge olive oil, the chopped chive, season with salt and black pepper, stir all well and serve separately.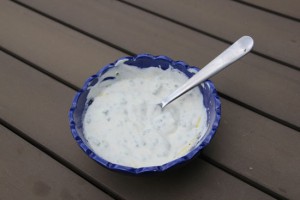 Then is time to assemble the salad, just put all the ingredients, except the dressing, in a big bowl, mix all with your hands, I found easier to work with my hands, but it is up to you of course. Sprinkle with some more extra olive oil, serve with the dressing, some bread and of course a good white wine.
You can leave the chorizo out of course, that way you will have a vegetarian salad, and add some olive olives for the extra taste.