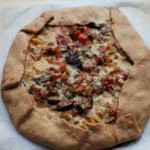 We all know that we need to eat at least 200 gr. vegetables per day, sometimes we struggle because we might not get to that, well there are always options, like a soup or a vegetarian pie, where you can hid a lot of vegetables and get your portion of vitamins and proteins. You can let your imagination goes and use anything you like, as long you have a lot of them, more or less keep the proportions as in my recipe and you will have a success on the table. 
The ingredients you need for a pie for about 4-6 people are:
Dough, recipe in here
1 leek, in rings
1 red bell pepper, diced
1 yellow bell pepper, diced
1 sweet pepper, diced
1 chili pepper, chopped
4 spring onions, in rings
1 aubergine, diced
A handful fresh rosemary
A handful fresh thyme
200 gr. gruyere cheese, grated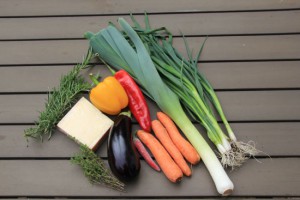 Once all the vegetable are washed and cut, you can start cooking. Take a big pan where all the ingredients fit, heat some olive oil, add the carrots and half of the spices, let it cook for about 5 minutes, then add the leek and spring onions, allow to cook 10 minutes.
After that do the rest of the vegetables and the spices, mix all well, cover and let it simmer for about 10 to 15 minutes, until all the vegetables are a bit soft and nicely bake.
At this point drain the vegetables you need to get almost all the moist out, that way you will not have a soggy bottom in your pie. Then scoop them into the prepared dough, add the gruyere, divide all equally and fold the sides of the pie.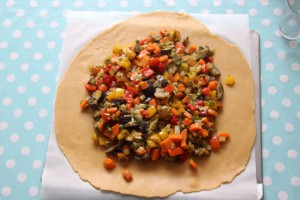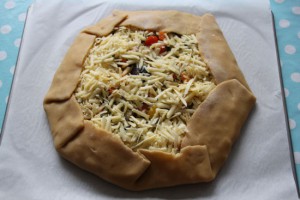 Bake in a 200 degrees preheated oven for about 30 minutes, the cheese will be melted and the pie will have nice golden colour. Serve with a green salad and white wine.