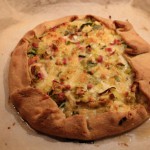 This is a very simple and delicious pie to make as main course for 4 people or just as a side dish in a party, since you can make in advanced and just warm up when you are going to eat. Also for the filling you can just add whatever you can find at home, other vegetables like onions, paprikas or aubergines and the ham you can leave out or even replace for bacon or chicken, this last one is best if you first bake in olive oil with some salt and pepper. 
The ingredients you need for this pie are:
250 gr. plain flour
150 gr. butter
1 egg
1 tbs. cold milk
800 gr. leek
6 spring onions
250 gr. diced ham
Fresh thyme, 1 tbsp leaves
200 gr. grated cheese
The first thing to do is the dough, sieve the flour and make a hole in the middle. Then put the diced butter into the hole, adding the egg and a bit of salt.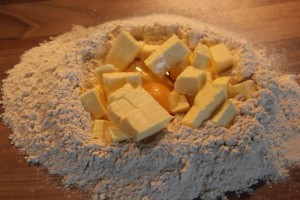 With your hands work the dough slowly until is all mix well. Add then the milk and work it out until is smooth, not very long otherwise you will have a very dry dough. Cover in cling film and leave to rest in the refrigerator about 1 hour.
Meanwhile the dough is resting you can prepare the filling. Wash the leak and the spring onions well, cut into small rings, make sure that is well drained.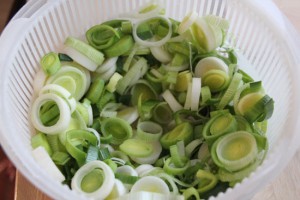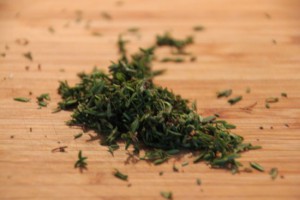 In a pan put melt some butter and bake the leak and spring onions with the thyme, it takes about 10 minutes. Season with salt and pepper. Once is ready let it drain well, you need to make sure that the most water is gone.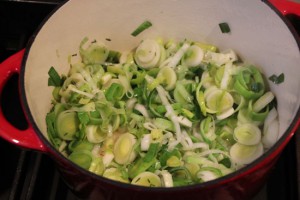 Take the dough from the refrigerator and roll out until a big circle from about 35 cm. Put in a baking tray.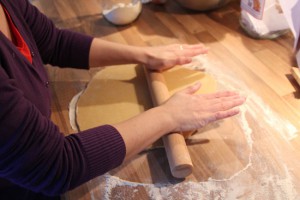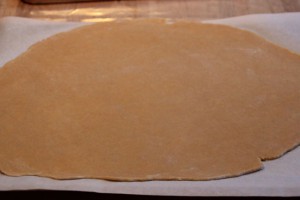 Divide the leak mix, ham and the cheese into the dough. Fold the sides to make sure the filling stays.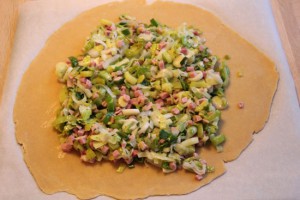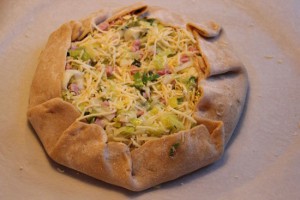 Bake in a 200 degrees preheated oven for about 30 minutes, until nice and golden. Enjoy with a glass of white wine!