I love dishes that are going into the oven, they are normally slow cooking and with fantastic taste. In the winter is of course one of my favourite things to eat. Checking into my books I found this recipe from Nigella that I had to try, being Spanish any meal that has chorizo in is something to test and it was certainly not disappointing, easy to make and with great flavours. 
The ingredients already are simple to get, chicken, chorizo, potatoes, red onions, orange and dried oregano, of course also olive oil, salt and pepper.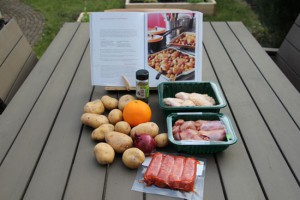 As you can see the ingredients are very Spanish, maybe that's why Nigella called this meal Spanish Chicken. To make you just need to clean the potatoes, not even peel them, dice the chorizo and get the zest of an orange. Take a baking tin and put all the ingredients in a roasting tin and let it bake for about an hour.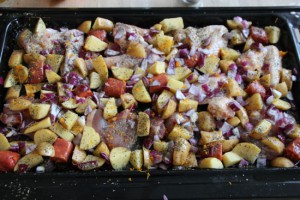 As you can see there is no much preparation and you will have a great meal to enjoy. Serve of course with a good Rioja wine, bread and maybe a salad. What else you need to have a good dinner?