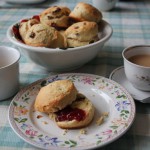 I think Scones is one of our favorites at home to have with a cup of tea, typical English. Actually we go to the UK almost every year, we need to get some supplies, like English Tea, special flours that are difficult to get in Holland or they are much more expensives, or icing sugar. Then we enjoy going to the tea rooms to have a scone, the best scone ever I had in York, since then I have been searching for a good recipe, combining ingredients and this is my favorite one, still the one in York is winning but I maybe one day I get the secret ingredient. 
To make about 8 scones you need:
250 gr. self rising flour
50 gr. caster sugar
a pinch of salt
50 gr. unsalted butter
1 egg
100 ml buttermilk
50 gr. sultanas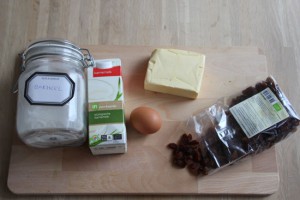 Mix the flour, sugar and salt well, then add the butter (diced), the best is to use a mixer, you need to get nice fine crumbs. In another bowl beat the egg together with buttermilk. Slowly pour into the crumbs, with the machine running, until the dough comes nicely together.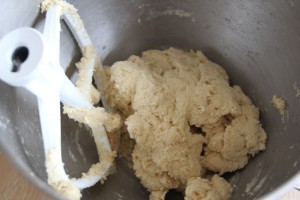 At this point turn the dough in a floured surface and knead a bit just to make it come together. Add the sultanas and work them into the dough. Don't knead to long otherwise it will get to dry.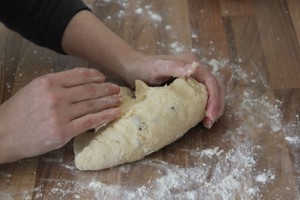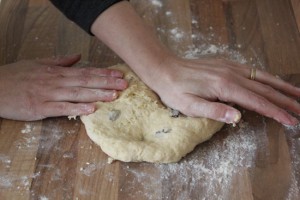 Once is all mixed, roll the dough out, it should be about 3 cm. thick. Use a 6 cm. cutter to get the scones. Put them in a greased baking tray.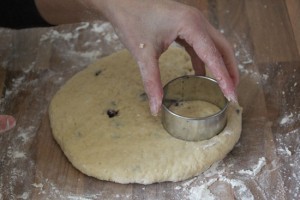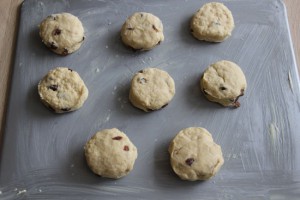 Bake in a 220 degrees preheated oven for about 12 minutes. Once ready you could leave them to cold down a bit, but actually are best when they are still warm. Served with clotted cream or mascarpone (good alternative) or butter with jam and of course a good cup of English tea with milk. The perfect treat for a rainy afternoon.