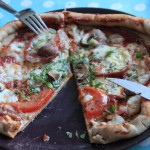 Who doesn't like pizza? I don't think I have ever meet somebody who doesn't like pizza, you can have in all ways, gluten free, lactose free, vegetarian, with meat or fish, only cheese, you name it, all is possible. That makes that pizza is one of the most populars meals there is, you can make as healthier as you want or as unhealthier as you can 😉 We don't eat very often pizza but when we do we make it ourselves, it is worth to learn how to make the dough, the taste is nothing compare with those ready pizzas. 
The ingredients you need for the dough for 3 normal size pizza are:
400 gr. white bread flour
200 gr. semolina
7 gr. yeast
1/2 tbsp salt
1/2 tbsp cane sugar
325 ml. lukewarm water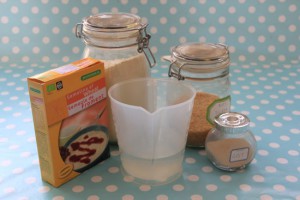 To start mix with a fork the water, yeast and sugar. In a big bowl put the flour with the semolina and the salt. Slowly add the water, keep stirring until is well mix.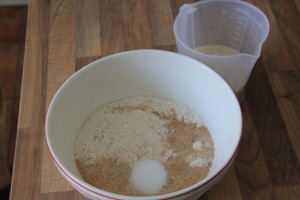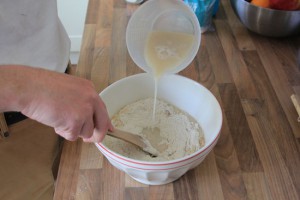 Make sure is you get a consistent dough, at this point dust a working surface with some flour, put the dough on top of the surface  and start kneading with your hands, until you get a very soft and elastic dough, about 10 minutes.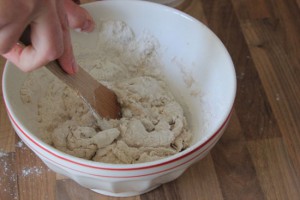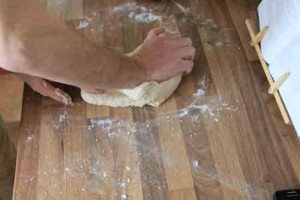 Make 3 balls from about the same size, dust them with flour, put them in a bowl, cover with clingfilm and let them rest for at least 15 minutes. You could keep them in the refrigerator if you have started with the pizza earlier, that should be no problem. Once you are ready, roll them out in a dusted working surface with flour and semolina to about 0.5 cm thickness, you can put the pizza in a baking tray to start "decorating"
What you want on the pizza is all up to you of course what do you prefer, I have here actually 2 examples of what we had at home. Once the pizzas are ready, bake them in a very hot oven, 250 degrees about 10 to 12 minutes, should be golden brown.
In both of them the tomato sauce is just tomato paste seasoned with chili flakes. Then the rest is, ham, champignons, fresh tomato in slices, mozzarella, mascarpone, spinach, fresh chopped oregano. After baking serve with fresh rocket leaves, more fresh oregano, prosciutto and sprinkle with extra verge olive oil.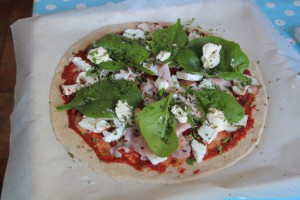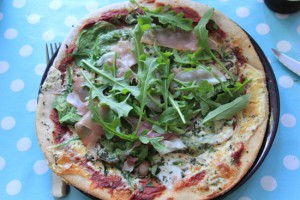 The second pizza, this one was made by my daughter, she likes to have a crust around,  so she did fold a bit the whole side to get that crust. She had champignons, fresh tomatoes, ham, mozzarella, mascarpone, a bit of spinach and fresh chopped oregano. Served with some more oregano. So let your imagination go and bake your own pizza!