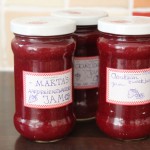 The summer or the end of the summer is ideal to make your own jam, there is a lot choice from plums, to strawberries, cherries, blackberries, even peach. Because they are in season they are cheap and of course they taste very sweet. Well you know just get some big quantities and start making your own jam for the coming months. I made a less sweet one, more fruit less sugar, so let's say not so unhealthy 😉 
In my garden I had this summer quite a lot of strawberries and a small hand of blackcurrant, so I decided to mix together and make jam. The ingredients for about 4 pots of jam are:
1,250 gr. strawberries and blackcurrants, clean
500 gr. special gelei sugar (this is special sugar for less sweet jam)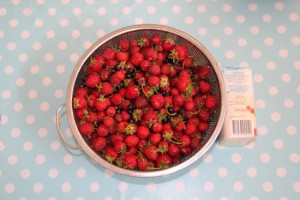 The first is to clean the fruit, to make sure that they don't get very soggy, the best is first wash the strawberries with cold water and after cut them. Since they are from my garden, there are not to big, but very sweet. My daughter did help me to cut them all, just to make sure that no small animals/insects were inside. Once clean you need to have about 1,250 gr fruit. Put them in a big pan together with the blackcurrant.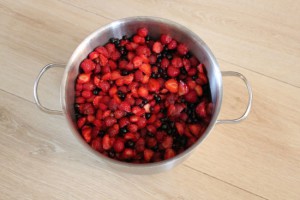 Here you can use a hand blender to mash the fruit a bit. Then add the sugar, mix all well before you put to cook.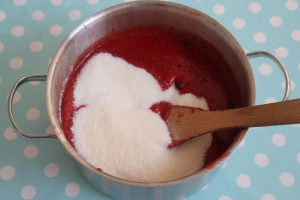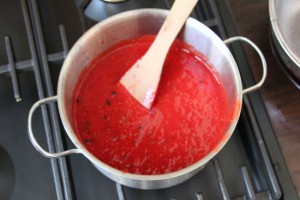 Bring the whole mix slowly to cook, keep stirring at all times until start boiling, at this point just leave the pan simmer about 2 minutes.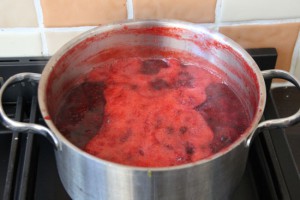 Before you fill in your glass pots you need to make sure they are clean, normally I clean them in my dishwasher, that way they are free of germs. Then fill in with the fruit mix until the top, close and put them upside down, leave like this for about 5 to 10 minutes, that way they will keep well closed. Put a nice label with the date you made it. Normally you can keep for about 6 months. The perfect jam for your toast!