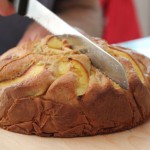 The summertime is perfect to make cakes with fruit that only then are at their best, like peach or plums. Of course some times those cakes you can make the rest of the year using apples or pears. In this case I made peach cake where of course you can substitute with other fruit that you prefer. It is easy, colorful, sweet and very tasty. Perfect for a dessert or just for an afternoon tea, what best for you is, in our case we eat it in our Sunday afternoon tea, delicious! 
The ingredients for about a 22 cm cake are:
200 gr. sugar
5 eggs
1 orange
300 gr. plain flour
15 gr. baking powder
65 ml olive oil
2 peaches
A pinch of salt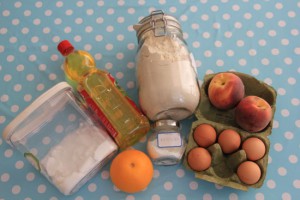 To start using a mixer, mix the eggs with the sugar until very light and smooth, of course you could do with your hand but that's a extra work. Slowly add the juice from one orange without stopping mixing.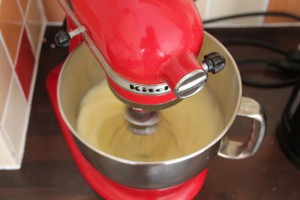 Sieve the flour and add to the eggs with a pinch of salt. Using a spatula mix all slowly but not long, you don't want to lose the lightness. Make sure there are no lumps. Add the olive oil and scoop all together.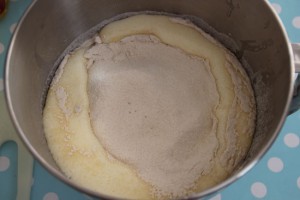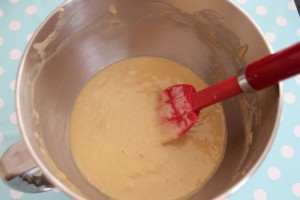 Wash well the peaches, after that take out the pit and sliced them. The half of the peach goes into the batter, mix again well. Pour it in a 22 cm greased baking tin and then put on top of the batter the rest of the peach.
Bake for about 50 minutes in a 180 degrees preheated oven, or until firm to the touch.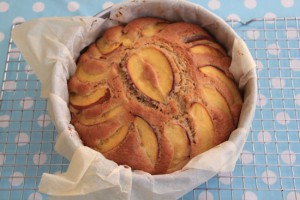 Leave to cool down in a wire rack. You can eat warm or cold, if you have it as dessert you can serve with an ice cream ball or some whipped cream. If you have with the tea is nice to sprinkle with some icing sugar, any case is delicious.