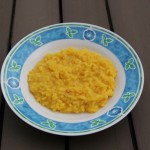 Saffron is the most expensive spice there is. It is a fantastic taste maker plus has also some vitamins and minerals (manganese, magnesium, iron, potassium, vitamin C and B6), of course you will only use a bit for your meal but still it is good to say that is a healthy spice. The saffron risotto is also known as "Risotto a la Milanese", a perfect soft, creamy rice, easy to make and very good as side dish for meats or maybe as lunch. 
The ingredients you need are:
200 gr. risotto rice
1 onion, chopped
850 ml to 1 l. vegetable or chicken stock
A good pinch of saffron
Butter
100 ml. white wine
40 gr. grated parmesan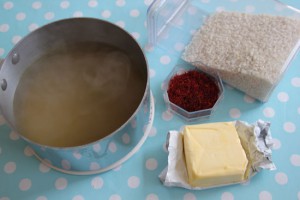 Put the saffron in a small bowl and cover with some stock, stir a bit and let it rest until needed. Set a pan and melt 20 gr. butter, add the onion and cook until soft, about 8-10 minutes.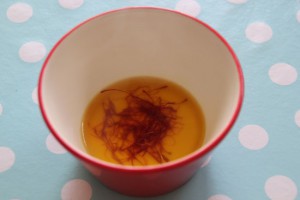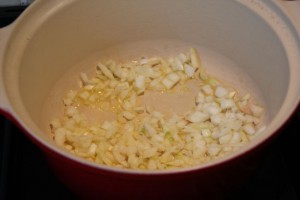 Stir the risotto by the onions for a minute, add the wine and saffron stock, keep stirring until is cooked away. Then add the stock soup spoon at the time. The secret of a good risotto is to cook slowly spoon after spoon, just patience.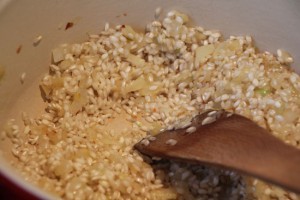 This process will take about 25 minutes, once the rice is soft add some more butter and the grated parmesan, mix all well, let it rest for a couple of minutes and serve with a bit of extra olive oil and some more parmesan. The perfect side dish for any meal.