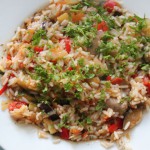 I am not sure how I suppose to call this meal that's why the name "healthy rice". It is for my understanding a vitamin bomb because there are a lot vegetables, you could make it fully vegetarian keeping the sausages out, but I think they give extra taste to the meal. It is easy to make, you get your daily vegetables portion and taste great, what else do you need? 
The ingredients for 3 people are:
250 gr. rice
1 aubergine, diced
1 red bell pepper, diced
1 zucchini, diced
2 tomatoes, chopped
1 red chili pepper, chopped
1 onion, chopped
3 garlic cloves, crushed
225 gr. chipolata sausages, diced
A bunch of fresh parsley, finely chopped
Fresh rosemary, finely chopped
2 tbsp. Balsamic vinegar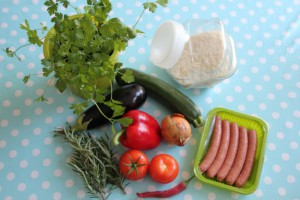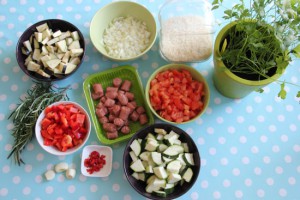 To start, bake the chipolata's until golden brown in drizzle of olive oil, take them out of the pan and keep them warm in a bowl. If needed add some more olive oil in the pan and then bake the onions for a few minutes.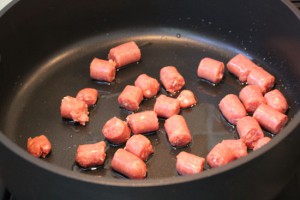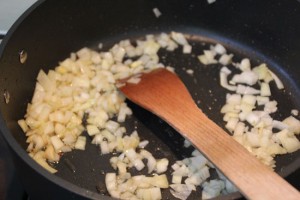 Add then the chili pepper, red pepper and garlic, stir well, bake a couple of minutes and add the rest of the vegetables and rosemary,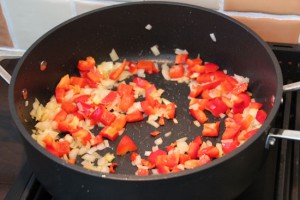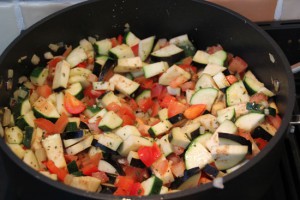 Let it cook for about 5 minutes before you add the balsamic, season with salt and pepper. Then cover and allow to simmer, slowly about 15 minutes, meanwhile you can cook the rice. Serve with fresh parsley, delicious, simple and healthy!