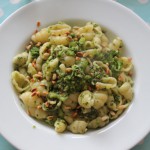 Broccoli is one of the healthiest vegetables there is. Now that the superfoods are so much in, I thinks is right to say that broccoli is a superfood. The nutrients you find besides a lot of fibers are, vitamin A, B1, B2, B3, B5, B6, C, E and K, and the metals calcium, iron, magnesium, manganese, phosphorus, potassium, sodium and zinc. Well all good reasons to eat broccoli and this pasta recipe is a one of the many ways your can prepare, healthy and delicious. 
The ingredients you need for 2 persons are:
1 normal size broccoli
1 dried chili pepper, chopped
2 tbs. capers
1/2 lemon, zest and juice
Fresh basil
3 garlic cloves, crushed
A handful pine nuts
20 gr. grated parmesan
200 gr. pasta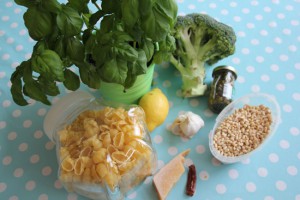 To start in a hot pan toast the pine nuts, don't forget to keep stieren otherwise they will burn and then are not good. Once ready keep them in a small bowl to cold down.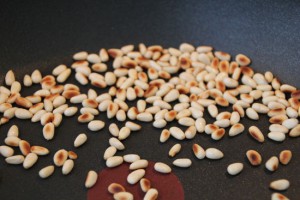 Put a big pan with water to cook. When starts boiling add the salt, if you put the salt before the water boils it will take longer to get that stage with the consequence that you use more energy to cook. Then add the pasta and the broccoli florets to cook.
Meanwhile you can prepare the pesto sauce, in the hot pan where you have baked the pine nuts, put a bit of olive oil and bake 2 minutes the crushed garlic with the chili pepper.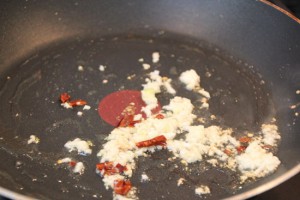 Then in a blender or mixer, put the basil leaves, cappers, zest and lemon juice, 2 tbs. olive oil extra verge, the garlic mix, the grated parmesan, season with salt and pepper, mix all until you get a smooth pesto.
Put the pesto into a big bow where all the food fits. When the pasta and broccoli are ready, drain them keeping a glass of the boiling water. Scoop the pasta and broccoli into the bowl with the pesto, mix all well adding the roasted pine nuts. Serve with a salad, bread and a bit more grated parmesan. A perfect vegetarian healthy dinner.