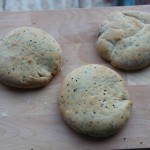 Some time ago my daughter was asking me to make falafel, normally we have for lunch from one of those falafel places there are. I thought I should give it a go, the falafel itself didn't work out the way it suppose to be, so no pictures no review, but the pitta bread I made from Paul Hollywood's book are worth to talk about. You just need some patience and you have great bread to go with anything like souvlaki, in the book you also find the recipe or with falafel, ideal. 
For the ingredients, it is very easy, just strong bread flour, salt, yeast, nigella seeds, water and olive oil.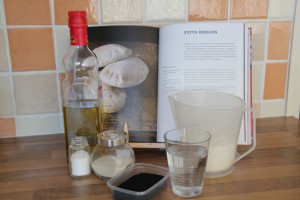 The most important of the preparation is that when you put the dried ingredients together, the salt and the yeast are in different sides of the bowl, the salt could kill the work of the yeast. But once you start adding the water and oil you will have to mix anyway.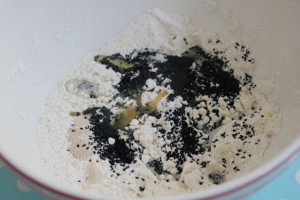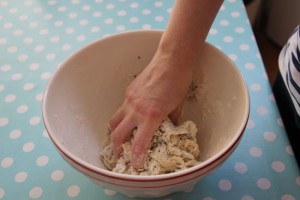 Then you have to mix all slowly and when ready you can start kneading. Of course you can always use a mixer but I think is better to you by hand, that way there is no danger of having an overworked dough, that will not rise at all or the bread will not be fluffy enough.
After that you just need patience until the dough has double the size, according to the book is about 1 hour, in my case it was 2 hours, I am not sure why, maybe was not warm enough. Anyway, after the 2 hours I could make 3 nice pita breads and bake perfectly. I am definitely going to make soon again and try the falafel once more, hopefully next time I can put the recipe!