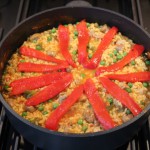 Paella is the most famous Spanish meal there is, specially the one with fish and sea food. My recipe is a bit of an alternative for those who don't like fish or who just prefer to try something different. The secret as always is the good quality of the ingredients you use and of course just take your time to prepare because is worth it and very healthy meal. 
The ingredients you need for 6 people are:
350 gr. Chicken breast in small pieces
220 gr. Chipolata in small pieces
5 to 6 Garlic cloves, crushed
1 Green bell pepper, diced
1 Red bell pepper, roasted and cut in slices
2 Big tomatoes , diced
Saffron
3 tbs. Sweet smoked paprika (pimenton)
500 gr. rice
175 gr. frozen green peas
1.2 l. water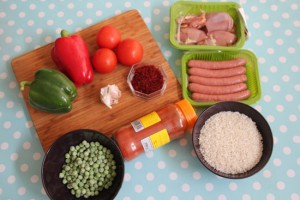 Start by roasting or grilling the red paprika. I normally do this directly on the stove's fire, turning constantly until the skin is a bit dark and starts to peel away from the flesh of the pepper. If you don't have a gas stove, you can also grill the paprika in the oven for about 10 minutes on the maximum heat. Make sure to check regularly that it doesn't burn, and to turn the pepper often during grilling.
In a paella pan or a big frying pan, warm the olive oil, and sear the meat until it is cooked through. Remove the meat from the pan and keep warm on a plate.
If there is not much oil left, add some more, then pan-fry (or sauté) the green paprika for a couple of minutes. Add the crushed garlic and tomatoes and stir well, cooking for about 5 minutes.  Add one pinch of saffron and continue to cook until you get a kind of tomato paste, about 5 to 10 minutes.
Pour all the water, the smoked paprika, salt to taste and the remaining saffron into the tomato paste and bring to the boil. Then add the meat, bringing it back to the boil.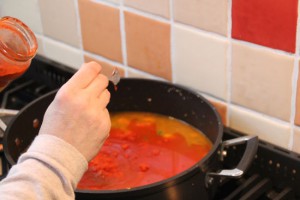 At this point add the rice and let it simmer for about 20 minutes. The rice should start to feel soft. It might be that you need to add some more water so make sure to keep an eye on it. When the rice is almost done, add the green peas and let them warm up with the rice for about 5 minutes.
To serve, decorate the paella with the red paprika and serve with some bread and a good Spanish red wine.