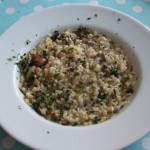 Some time ago I already made a review for risotto with mushrooms, then was from a Jamie Oliver recipe, this time is an oven risotto from Karin Luiten. The good thing from this one is that is easier because you finish in the oven with all the bouillon, so no need to add spoon by spoon, the taste is still fantastic. In her book she has 4 kind of oven risotto, good idea to try with different vegetables. Easy and simple to follow. 
The ingredients you need are the same as any other risotto with mushrooms it is just the way you finish that makes a different kind: risotto rice, bouillon, dried funghi, fresh mushrooms, parsley, garlic, white wine, butter, parmesan and if you like some truffle oil.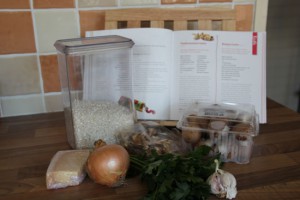 The secret are the quality of the ingredients but that is in all meals of course. The steps are simple to follow, but you need to go to another page to check how to start, that can be a bit inconvenient, because you need to keep turning your page. The first thing to do is to put the dried funghi in hot water. In the mean time we go to basic risotto to start with the onion and garlic, and prepare the bouillon.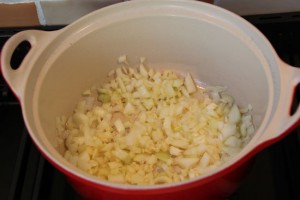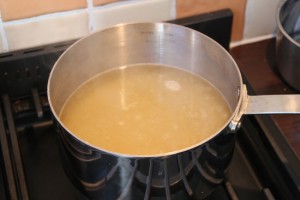 Once the onions are ready we can add the rice, after a minute the wine to finalize with all the bouillon.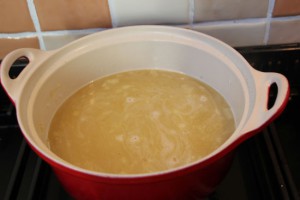 Then is the easy part, when start boiling you just need to put into the oven for about 30 minutes, but half way you will need to take out to stir and add the mushrooms that first you have baked in butter and with the parsley.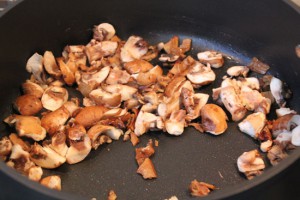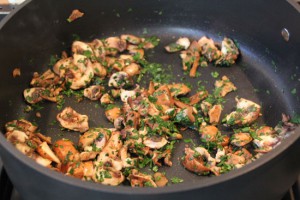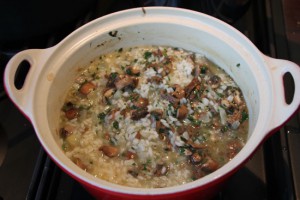 The risotto is ready when all the bouillon is gone and the rice is soft. Then just mix with some more butter, parmesan and of course as bit of truffle oil. It is a very good recipe just a bit different that you are use to it, so take your time.