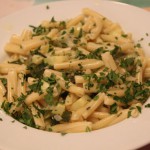 I love pasta, you can make in so many ways, very complicated sauces or very easy and fast. This recipe from Nigella is highly recommended, specially if you don't want to spend much time in the kitchen, in no time you have a nice dinner with quite a lot of vitamins thanks to the zucchini.
Still that is an easy pasta you need some extra ingredients, the pasta of course, salt and pepper, as usual, then aromatisch garlic oil (I don't have, so I just use fresh garlic), spring onions, zucchini, white wine, fresh parsley, grated parmesan and butter.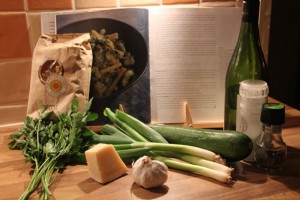 Then is simple, just cut everything small, starting baking the onions with the garlic a bit adding later the zucchini. After a few minutes just add the wine and some of the parsley. Letting the veggies to be stew very slowly meanwhile you prepare the pasta.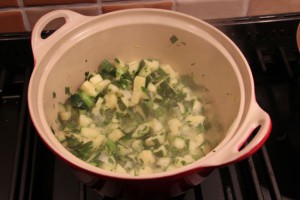 When the pasta is ready is a matter of mixing the pasta with the veggies, some of the parmesan and some of the pasta water, then the butter and pepper. You could season a bit more with salt. With a ciabatta bread and white wine is a perfect vegetarian dinner.