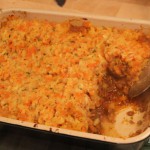 A couple of weeks ago I decided to make this dish from Annabel Langbein, it was the first time for me to cook pastinak and it was perfect, according to my family maybe too much carrots, but I still think that it was good, I adapted a bit the ingredients and the quantity to make sure we had enough food to be able to eat twice, actually the second time taste even better, all the spices have done their extra work.
For this meal you need to prepare 2 differents things, the mash from carrots and pastinak and then the dish itself, so there are quite a lot of ingredients: carrots, pastinak, butter, dried dragon, minced lamb, onion, garlic, fresh ginger, ground cumin, ground cinnamon, tomato paste, tomatoes in pot, vegetable stock, fresh rosemary, fresh parsley, salt, pepper and oil.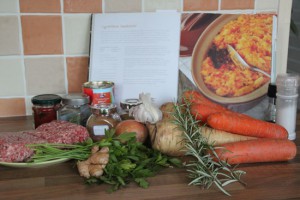 The first thing is to make the puree from pastinak and carrot. You just need to peel them all, sliced and cook them in water for about 30 minutes. Then mush with butter, salt, pepper and dragon. That is simple.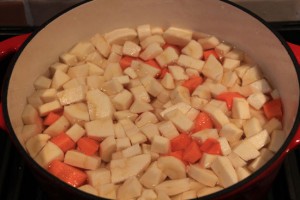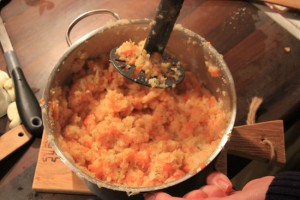 Of course while this is cooking you can start with the oven dish itself. Baking the minced lamb in olive oil with salt and pepper until nice brown. Then the steps get a bit more complicated, you need to take out the meat of the pan, get rid of some of the fat and bake the onion adding later the garlic, ginger and the spices. After a while goes the tomato paste in, follow with the lamb, more carrots, tomatoes, stock and rosemary, leaving to cook for at least half an hour.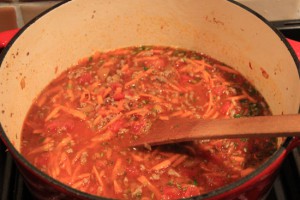 When almost all the moisture is gone, you can add the parsley, mixing well. Pour the sauce in a oven dish, putting the mash carrots and pastinak on top. Then a bit more patience because needs at least 40 minutes in the oven.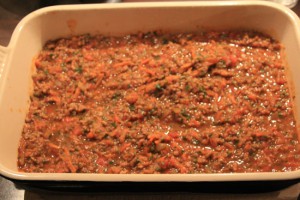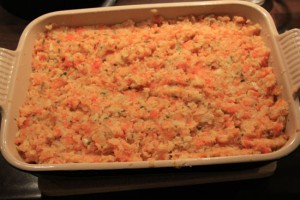 According to the recipe you should serve with some extra steam vegetables, well we didn't and it was enough and healthy. A lot of work but is worth it!