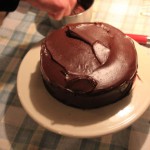 I have been asked to prepare a chocolate cake for a wedding in January. Of course before then I need to test to see what is working the best. So I had to look into all my books and magazines, in the end I also did a web research and there it was, on the page of the BBC food, "Easy chocolate cake". Well I can tell you it was easy but not that easy, still it was really delicious. I brought the cake to my work and I got the approval from my colleagues, that's a good sign. 
The fully recipe you can find in the BBC website, just click here. The ingredients you need besides a lot of chocolate (cocoa powder and also plain) are plain flour, caster sugar, baking powder, bicarbonate of soda, eggs, milk, vegetable oil, vanilla extract, boiling water and double cream.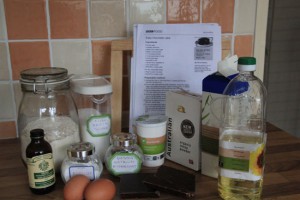 The preparation starts simple, just mix all the ingredients for the cake except the boiling water. Since I have a good mixer I made use of my electric whisk, after that just add the water slowly and keep mixing.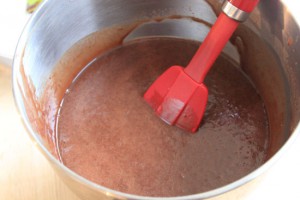 After that is just dividing the the dough into two baking tins and straight into the oven. When ready just leave to cool down completely. Simple, isn't?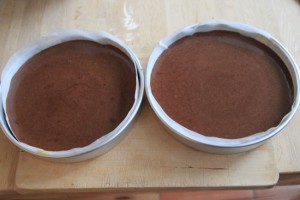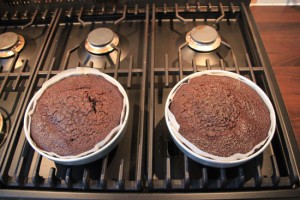 Well I start to struggle a bit in the next step, when you have to prepare the chocolate icing. According to the instructions you need to heat the chocolate and the cream in a saucepan, well that didn't work out, it all went wrong, I was a bit upset and I even forgot to make a picture.
So I had to do all over again, my advice at this stage is to heat the cream, closed to boiling, then remove the pan from the heat and add the chocolate to melt, then it is really perfect. In the end I managed of course.
After that you need to assemble the cake, spreading some of the icing in one cake, then the other cakes goes on top and spread the rest of the icing all around. For the wedding I am thinking to add some jam in the middle layer and decorate around with some marzipan, that will make the cake certainly more festive. But for this time that was very good and tasteful, you should also give it a try.