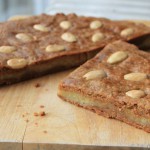 In Dutch this cake is called "Gevulde speculaas" if would translate is then "Filled Gingerbread", but I think I should just leave the Dutch name speculaas. Well this cake or cookie, is one of the best Dutch sweets. In this version I am based in the book "Het Nederlands Bakboek", normally I am not that fun of it, but I have to say this one is perfect, if you want to make one, you need to get this book. The whole house will smell to the mix of spices, fantastic!
The ingredients you need are quite a lot, you could decided to buy a mix of spices (speculaas mix) but I do like this version using all species separately. You will have to gather, plain flour, butter, very dark muscovado sugar, salt, baking powder, ground cinnamon, ground cardamon, ground ginger, ground anais, ground clove, ground nutmeg, ground mace, eggs, almond paste (I also made myself, taste better).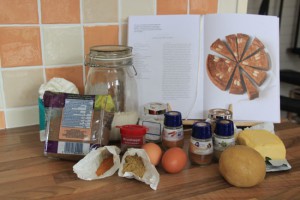 After you gather that large quantity of ingredients you can prepare the base, mixing with you fingers the flour and butter until you get crumbles, you could also use a mixer, like I did of course, much faster. Then add sugar, salt and spices, mix all adding at the end the egg and after that you have to knead until you get a nice dough, make a ball, cover in cling film and let it rest for almost an hour in the refrigerator.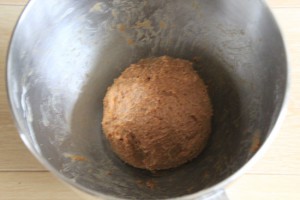 Then is time to make the cookie, dividing the dough into 1/3 and 2/3, the bigger piece you need to roll out into 28 cm circle, covering the form, making sure it doesn't break, This part was quite tricky, actually I had to redo once adding some flour because it was a bit too moisted. Then we will add the filling, amandel paste, into the baking tin. And at last with the 1/3 you need to roll out into a 22 cm circle that you will put on top, sealing the cake. Decorating with some extra almonds and brushing with egg.
After that is just a matter of baking for about 35 minutes, letting cool down in the tin completely. It is fantastic cake, you can enjoy a few days if you keep in cling film and in a airtight tin. Serve with tea or even better with hot chocolate, enjoy!