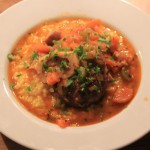 Of course being risotto one of our favorites at home and one of my specialties, the first recipe from Jamie's "Comfort Food" that I would try had to be this one. I think one of the best meals I had in long time. It was a long elaborate meal, even that in the book says 2 hours and 30 minutes, in my case was 1 hour extra, but I really didn't mind, neither my family, this risotto has turned out to be the favorite at home and I am going to make soon again, I challenge you to make it as well, it is worth! 
To start you will need, as usual in Jamie's recipes, a lot of ingredients to gather: ossobuco, nutmeg, flour, butter, olive oil, onions, carrots, garlic, celery, fresh rosemary, pinot bianco, tomato puree, chicken stock, fresh parsley and lemon. Then for the risotto chicken stock, onion, celery, butter, saffron, risotto rice, pinot bianco, parmesan cheese and extra verge olive oil. Some of the ingredients you might have standard at home, I think half of them.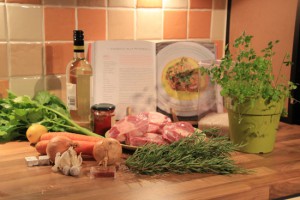 The preparation of the ossobuco is not that complicated, but you need to have very good quality meat, so I went to our butcher and I bought the best I could get, it really makes a difference! After season the meat with salt, pepper and nutmeg, is just a matter of dust them with the flour and fry them with some butter and oil, not very long, just to get a nice color. The meat will be finished in the oven.
Once the ossobuco is ready, we start with the stew, cooking all the vegetables for about 15 minutes before you add the wine, after that we add the stock and tomato paste, bringing to boil.
We return the meat into the pan and then into the oven for about 2 hours! time to relax. Of course half way you will need to check that is not dry, adding water if necessary, but that is piece of cake.
Then when the stew has left about 30 minutes you can prepare the risotto, that is an easy one of course, specially since I made very often, although it was the first time for me to make it with saffron. What a fantastic taste you get out of saffron, the best!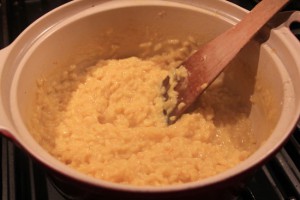 When the risotto is ready you can assemble with the ossobuco, serving with bread and a very good quality red wine, you will feel that you are tasting heaven. I made the exactly quantity as in the book, for 6 people, we are just 3 at home, in this way we could eat twice, and I have to tell you the second time was even better.