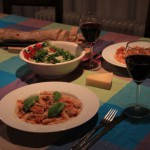 Normally I don't make the whole menu from the Jamie in 30 minutes meals, I think is too much, not only because it takes much longer than that but because you don't need the dessert, you make a kind of healthy meal a bit unhealthy. But this time was on Sunday I had plenty time and on Sunday you can have a bit of extra cake, so I decided to make the whole menu. It was good, the pasta was fantastic, the cake was too much, as I expected, we were full, but the taste was great. 
As usual you need to start gathering the large quantity of ingredients to prepare this full meal: spring onions (that I forgot to buy even that was in my list), carrot, celery, chili pepper, sausages, ground fennel seed, dried oregano, garlic, balsamic vinegar, can tomatoes, pasta, basil, radicchio (I forgot to buy as well), rocket salad, parmesan cheese, lemon, shortcrust pastry dough base, egg, ground almonds, butter, sugar, orange, vanilla extract, raspberries jam, creme fraiche.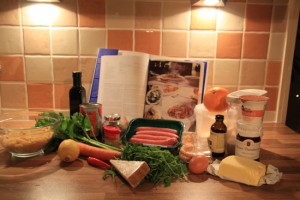 I am not going to explain this time how to make this recipe, there are too many steps and some how a bit complicated, especially when you don't have food processor (I will have to get one very soon). It is matter of mixing all the vegetables with the sausages and make a very tasty sauce for the pasta, that is fantastic.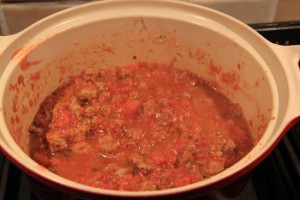 At the same time you prepare the salad with all the ingredients, I had add some extra tomatoes because I love tomatoes on salads.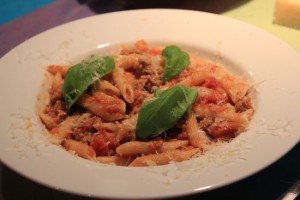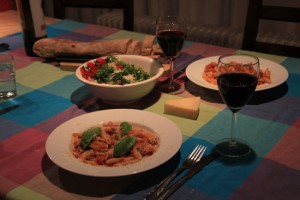 Before you eat the pasta you can prepare the cakes and while you are eating you can finish them in the oven, they are very nice and sweet, it's a pity that we were so full that we couldn't enjoy so much of the cakes. I think next time we can leave the cakes for later, to have them with a cup of tea or coffee.