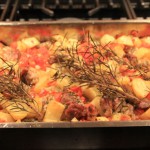 After a couple of weeks off, finally life is starting to go to normal and I can get back into my cooking and then of course time to update my website. This Spanish Casserole I learned years ago from my mum, but every time I make is surprisingly delicious, I forget that something so simple and easy to make is just fantastic. The secret is the kind of meat you use and the freshness of all the ingredients, all natural flavors come together to a great meal.
The ingredients you need my vary, depending in how many people and how hungry you are. In this case is a casserole for 3 people:
400 gr. diced pork of lamb
750 gr. potatoes (peeled and diced)
1 big chopped onion
2 to 3 medium tomatoes (chopped)
5 to 7 garlic cloves (chopped)
Fresh rosemary
2 to 3 teaspoons dried rosemary
Olive oil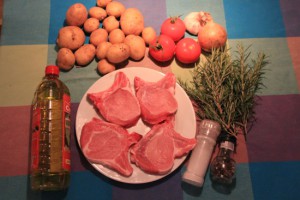 It is just that simple, once all ingredients are chopped, season the meat and potatoes with salt and pepper, put them in a casserole and sprinkle very well with olive oil, don't be shy, just put quite some oil, add the dried rosemary and mix all well. Cook the casserole for about 30 minutes in a 180 degrees preheated oven.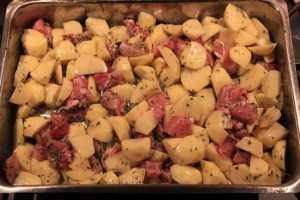 After the 30 minutes take the casserole out of the oven and add the tomatoes, garlic and onions, scoop all very well and put the fresh rosemary on top. Bake for another 45 minutes or until the meat and potatoes are ready.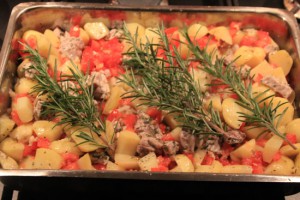 Once is finished leave for a couple of minutes in the tray before serving. Eat together with a green/tomato salad and of course bread. Serve with some red wine. Que aproveche!