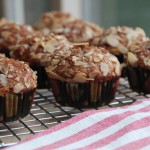 I love muffins, specially with fruit or chocolate, I decided to make apple cinnamon muffins because I had a couple of apples that were getting a bit old just to eat like that, so a cake is one of the best ideas to avoid throwing away food. After checking in the internet in few websites I found the one I liked the most to try, the recipe you can find in here: http://carolinebrouwer.blogspot.nl/2010/10/appel-kaneelmuffins.html  It is in Dutch but there is a transaltion option. Delicious and very easy muffins.
The ingredients you need is something you might have now at home, so you can also make them: apples, plain flour, baking powder, light bruin muscovado sugar, cinnamon, honey, eggs, sunflower oil, yogurt and almonds.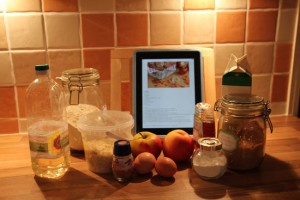 The instructions to make them are just perfect, if you follow the recipe on the website there is no way that can go wrong. In one bowl you mix the dry ingredients except the sugar and in another you mix the liquid ingredients plus the sugar, after that you just scoop all together with the apples and half of the almonds. At this stage your kitchen has so much flavour because of the cinnamon that you know that is going to work.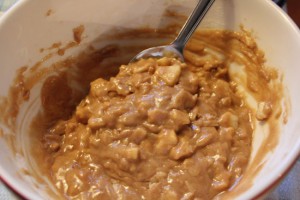 Divide all the dough into the muffin tray sprinkling the top with the rest of the almonds mixed with some more cinnamon and sugar. Baking then for just 20 minutes.
I made those on Saturday just to bring to our friends house visit, we all enjoyed very much with a cup of tea or coffee. The kids loved them. I am definitely going to make them again!