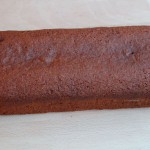 Ontbijtkoek is a typical Dutch cake, if you translate means breakfast cookie. Well this one is my daughter's favourite, normally you buy at the supermarket or the bakery, they are not expensive, but one day checking at the list of ingredients I realised how many unnecessary ones are in there, so I searched in my book "Het Nederlandse Bakboek" and I gave a try, I have made already many times, my daughter doesn't want the one from the shop anymore, this is so fantastic and without ingredients that we can not even pronounce. 
For the ingredients you need are quite a lot of spices that is what gives the cake the great taste, rye flour, baking soda, ground cinnamon, ground ginger, ground clove, ground nutmeg, ground cardamon, ground mace, kitchen syrup, honey and water.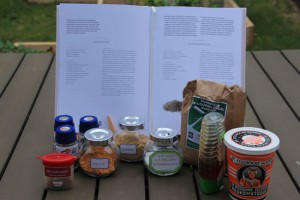 It is really easy to prepare, just warm the syrup, honey and water, stirring until they are well mixed, meanwhile cools down a bit, just sieve all the dry ingredients.
After that you just have to mix all together, I use a mixer, it is much easier. Scooping all into the baking tin.
Once the cake is ready and your whole house smells to the great spices, you cannot eat it yet, you will need some more patience. When is completely cool down, you have to pack the cake with cling film very well, put the cake in a airtight tin and leave it there for about 3 days, that way the spices will give even more taste. Great with some spreaded butter!