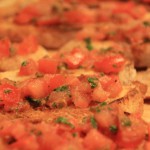 Bruschetta is one of those breads that you can eat as a starter, side dish or even as appetizer. You can make all the combinations you want, serve with all kind of ingredients. The secret is to use good quality bread and the most fresh ingredients you can find, then of course you need very good herbs and sometimes spices, depend on the combination you choose. 
For my Tomato Basil version, for about 15 bruschettas, the ingredients you need are:
1 baguette sliced diagonally in 15
3 to 4 tros tomatoes
Good bunch of fresh basil leaves
Extra verge olive oil
White wine balsamic vinegar
Salt and pepper
Garlic
To start open the tomatoes and take out the seeds, you will not use otherwise it will just too moist. Cut the tomatoes in small pieces and put into a bowl. Chop the basil leaves finely, add also to the bowl together with 2 a 3 tablespoons oil, 1 tablespoon vinegar, seasoning with salt and pepper, mix all well. Set a side, better in the refrigerator, for at least 1 hour, but if you can even longer, that way the taste will be even better.
After that time, take the bowl out of the refrigerator. Slice the bread and roster a bit, spread a bit of garlic on the toast (bruschetta), sprinkle with with a bit of the olive oil and top with the tomato mix. Sometimes I also put a bit of mozzarella on top or even some prosciutto. Serve immediately otherwise the bread will get hard and is not good. Enjoy!