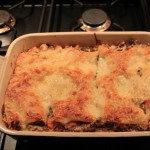 Lasagna is one of those meals that I have tried many times, from books, magazines or websites, but somehow never seemed to work the way it should be, always just too moist. Finally after searching and testing I found my own way to get the perfect lasagna, the secret is just to cook the sauce as long as possible, that way the liquids will evaporate and you will get what you are looking for. So this is my recipe, of course you can change the ingredients to your own taste, just remember to make sure the sauce is not too runny.
These are the ingredients you need for a large lasagna, about 8 people:
30 gr. butter
2 big chopped onion
5-6 chopped garlic cloves
1 finely sliced carrot
2 finely sliced celery sticks
600 gr. minced meat
3 ts. ground cumin
1 pot peeled tomatoes, make a puree with the content
3 tbs. tomato paste
2.5 dl. red wine
2-3 tbs. fresh chopped parsley
350 gr. lasagna pasta
100 gr. grated parmesan
For the bechamel sauce then you need:
60 gr. butter
40 gr. plain flour
5.5 dl. milk
1/2 ts. nutmeg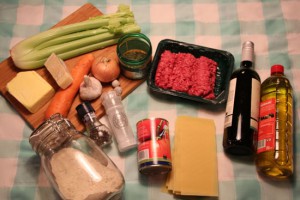 The first thing to do, once you have prepare all the ingredients, is to make the tomato sauce. In a big pan heat some olive oil (2 or 3 tablespoons) and the butter. Bake the onion, carrot and celery slowly, after 5 minutes add the garlic and continue for another 10 minutes. Set the fire higher and stir in the meat adding the cumin. Bake until the meat is nice and brown. Pour the tomato sauces, wine, parsley and a bit of salt and pepper, when start boiling set the fire lower and let it simmer for about 45 minutes to 1 hour.
Meanwhile the sauce is cooking you can start with the bechamel sauce. Melt the butter on a very low fire. Add the flour and stir very well about 1 minute, until is well mixed. Turn off the fire and stir slowly the milk into the pan, it is important that you get a consistent sauce. At this point will be very liquid, then set the pan again to cook slowly and keep stirring until the sauce is thicker. When start boiling, leave for 1 minute to cook. Add the nutmeg and some salt and pepper. Keep the sauce covered until it's time to use. Tip, the bechamel gets too thick when you start using, just warm up a bit.
At this point you can warm up your oven in 180 degrees. Grease a baking dish with olive oil. Add a very thin layer of the ragu (meat sauce) and also a very thin layer of bechamel, on top put a layer of lasagna sheets. Press a bit with your hands to make sure the air comes out. So after that just go on with the layers until all sauces are finished, make sure that the last layer is bechamel. Sprinkle the parmesan cheese and bake in the oven for about 40 to 45 minutes, until nice and golden.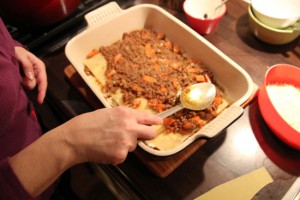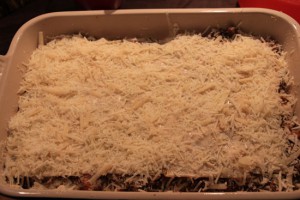 Sometimes you read that once is out of the oven you have to leave the lasagna to rest for 15 minutes before you can eat, I have to say I never do that and is always perfect. Another tip for this lasagna is that you can freeze very easily, so all leftovers just keep them. You can warm up in the oven again. Enjoy!