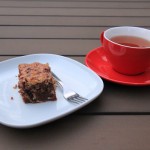 Who doesn't like brownies? Tell me? I think everybody loves brownies. Well when you try this version from Yvette van Boven from her book "Home Baked" I think you will discover a new addiction, they are absolutely fantastic, delicious and easy. I got her book for my birthday and this was the first recipe I made, I can hardly wait to try something else of this book. 
The ingredients you need are a bit more elaborated than in a normal brownie, but that is because of the coconut, the rest you might even have at home, butter, chocolate, eggs, sugar, flour, baking powder, coconut milk and grated coconut.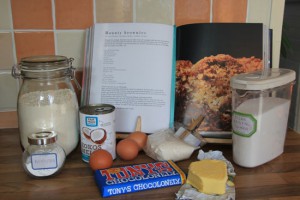 The preparation of the dough is in 2 parts. The first one you make the brownie, where you need all the above ingredients except the baking powder and grated coconut. Starting melting the butter with the coconut milk, then mixing the eggs and sugar until frothy, adding the melted butter and flour, stirring all well.
Then you will just have to pour the dough into the baking tin, easy so far.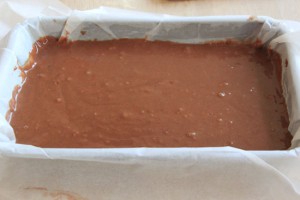 After this is time to prepare the cookies/bounty dough. in this case you have to mix well the butter with the sugar until very soft, then add the egg stirring well mixing after that the flour and baking powder, grated coconut  and chopped chocolate. This dough was a bit to dry for my feeling, but it all turn out perfect. Using your fingers you just have to put on top of the brownie layer.
Well and then is a question of baking, simple and delicious. With a cup of coffee or tea are a very nice treat. I am for sure going to make soon again!