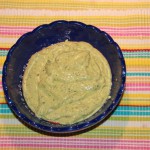 Guacamole must be one of the most populars sauces in the world, everybody makes in a different way, with different ingredients, that's the beauty of it. You can just combine and make it so spice as you like, at home we try not to eat much spicy food, but still a bit of chili in the guacamole is part of the ingredients.
The ingredients you need in my version for 3 people are:
1 ripe avocado
200 ml greek yogurt
A bunch of fresh coriander
1 lime (the juice)
Half fresh chili pepper or 1 tsp. chili flakes
Salt and pepper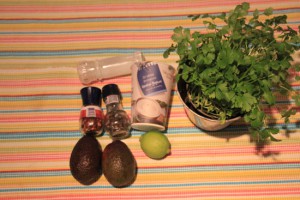 Well the preparation doesn't have much mystery, just put all the ingredients in a mixer and mix until you get a smooth sauce, seasoning with salt and pepper, depending on your taste. Of course the chili flakes you can add more or less depending in how strong you want it. Then served with some nachos or just to accompany your mexican tortillas.