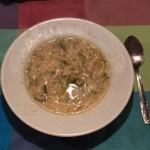 Minestrone soup is one of our favorites at home, normally I use a basis with passata, but this version from Nigella from her book "Kitchen" is absolutely delicious. The good thing from such a soup is that you can just change the ingredients with whatever you might have left over in your refrigerator, perfect to avoid food waste. Also is just what I called a vitamin bomb, since you are using a lot of vegetables and soup is one of the healthiest ways to have your vitamin portion for the day.
In this recipe you need, leak, zucchini, white cabbage, green beans, vegetable stock, soup pasta, white wine and parmesan cheese. I didn't use green beans, since I am quite allergic, in place I had broccoli and I also add some celery, I love the taste of it. The stock was self-made, I always have some at home, perfect to freeze in small portions.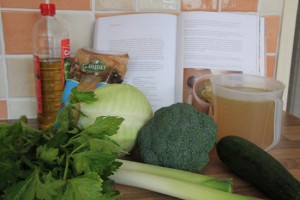 The preparation is quite simple, just chop everything small. Start baking in oil the leak and the zucchini, adding a few minutes lates all the other ingredients. After 5 minutes you just add the vegetable stock and let it cook for about 20 minutes.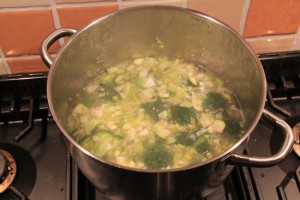 Adding the pasta when is almost ready. The white wine supposed to go in now as well, but since my daughter was having dinner with us, I decided not to use the wine, that is really up to you. Serving with grated parmesan and a good baguette is a fantastic no waste dinner!