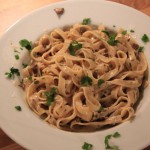 Pasta is one of those ingredients that you can prepare in so many different ways. Of course in Autumn the best combinations are with mushroom, perfect season, even though this recipe from the book Nigellisima is with dried porcini and you could make all year round, I still think in Autumn taste better.
In this simple recipe you don't need much ingredients, that makes your grocery very simple: dried porcini, marsala, mascarpone,  nutmeg, fresh parsley, butter, garlic, fettuccini pasta and parmesan. From all the ingredients unfortunately I didn't have marsala, I just cannot find in my supermarket, I will have to search in specialized shop, I had to do with the wine I had at home.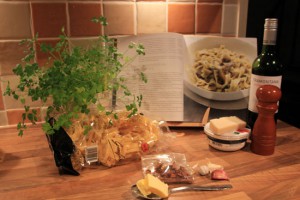 The  way you prepare the sauce is easy to follow, like almost all the recipes from the book Nigellisima, still is a complicate sauce because has different stages. I use many times mascarpone for different things, most of the time for cakes, this was the first time I had in pasta and it was great, nice, soft, sweet. I am thinking that actually a chili pepper could have be very good as well to give some extra spiced taste.
It took me a bit longer than I expected but the result was delicious, a perfect pasta for this time of the year, maybe next time I will add fresh mushrooms just to have some extra vegetables, probably the taste will be a bit different but I am sure that very good.