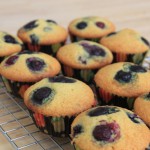 Muffins are one of the easiest sweets to make and perfect to share with others. Of course it is something that you can prepare with the kids, they will enjoy making them. These muffins are from the book Kitchen from Nigella Lawson, my daughter and I prepared on a sunday afternoon and they were a success, absolutely delicious, you keep for a couple of days and you can enjoy a bit longer that way.
What you need to prepare these muffins is a bit different that you might normal use because there is the cornmeal twist, first time to do so. The ingredients are just flour, cornmeal, baking powder, baking soda, caster sugar, oil, butter milk or yogurt, egg and blueberry. In my case I used sunflower oil and butter milk, maybe next time I will try with yogurt.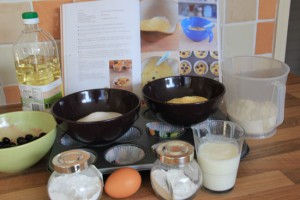 It is quite simple in one bowl mix all the dry ingredients, in another bowl all the wet ingredients, except the blueberries. Once is all well mix is a question to pour the wet bowl into the dry one and mix again, adding almost all the blueberries.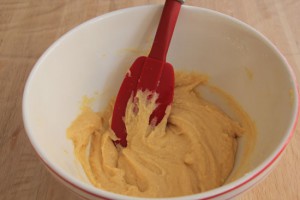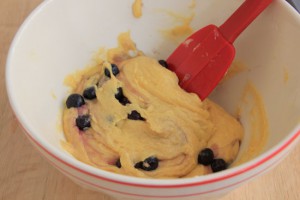 So simple like that, what I've said before, perfect to prepare with children. The most tricky is always to scoop the dough into the muffins cases, some how it is a bit messy, I have tried with an ice cream spoon, but since I don't have the correct one doesn't work properly. In the end I use to normal tablespoons, if is a runny dough I make a mess, hahaha, lucky this time wasn't a runny one, so did work, even my daughter gave a try.
The result of the muffins were perfect, I am definitely going to bake them again, maybe next time instead of blueberries I will use strawberries or a different kind of berry, just to see if they work so good.