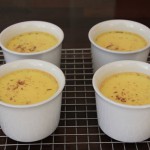 I love creme caramel, I think together with Crema Catalana, is one of my favorite desserts. I have never make it myself before, so when I saw this recipe in the book from Koken met Karin and according to her it was just very easy to make I decided to try myself and make it. 
The ingredients you need for this nice dessert is just very easy, something we all have at home, milk, eggs, sugar and vanilla, simple.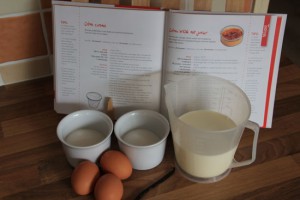 What could actually goes wrong with so simple ingredients? Well actually can go a lot wrong, like making the caramel, I made once, following her instructions, but the sugar started to crystallize and it was no way back. So first batch of the caramel wasted. The second time didn't go particularly better, also a bit of a disaster but not so bad. I decided to use it, now I know it was not good ;-).
The next step was easier just to put in the oven in a baking tray with water and after that leave to cool completely before you put on the refrigerator to settle. Well the creme was fantastic nothing to say about, the caramel was hard and stick into the bottom of the cup and it was difficult to take out, plus it didn't taste much caramel after all. I guess I just have to practice more this part, or just make the cream only, since that was so good.