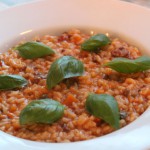 Risotto is one of our favourites at home, actually my daughter says that is my speciality always works, is great and event that for some people might give a lot of work, I enjoy the slow cooking, spoon by spoon. In this recipe from the book Kitchen from Nigella, she gives a twist with another basic sauce the bolognese, something that you will only think to combine with pasta and it is a great combination.
To prepare this bolognese you need quite large of ingredients, onion, carrot, celery, garlic, fresh parsley, bacon, anchovies, butter, minced meat, marsala, pot tomatoes, tomato paste,  milk, veal stock, laurel, risotto, parmesan cheese. Since we don't like much anchovies, I substituted for capers, the marsala wine I was not able to find, so I just used whatever I had at home on that day, then last the veal stock I also was not able to get, instead I had cattle stock. The results were still very good.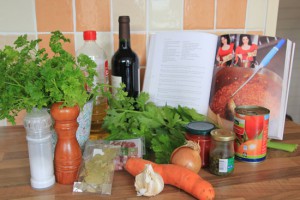 The instructions on the book are very easy to follow, you just need to have enough time once all the ingredients for the sauce, because needs to go into the oven for about an hour before you can actually add the risotto rice. You need to plan ahead the cooking qua timing.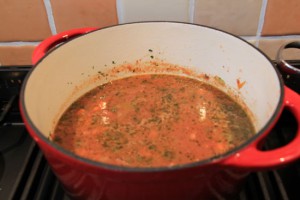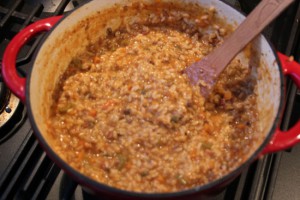 Then just have the patience to add one soup spoon at the time, wait until is absorbed by the rice to add the next one. I did make the whole amount like in the book, 6 to 8 persons, even that we are just 3 people at home, that way I could keep the half for another day and the second day was even more tastier. It is absolutely worth to cook for about 2 and half hours to eat this magnificent risotto.