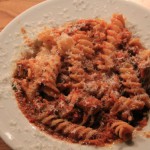 At home we are used to eat pasta, most of the time of with mushrooms or minced meat in a good sauce of course, but chicken is something we don't do much. When I saw this recipe in the book "Jamie 15 Minutes Meals" I thought, that one I need to try and what a fantastic idea that was, a very healthy meal, full with veggies and a bit of chicken, just for the twist.
As usual in almost all recipes from Jamie Oliver you need a lot of ingredients, that make it a challenge because there is something you might don't have or find. For this pasta you need: pasta, leak, celery, carrot, zucchini, roasted red peppers, fresh thyme, passata, chicken, bacon, chili pepper, garlic, rosemary, laurel, pine nuts, balsamic vinegar and parmesan. As you see a lot, well I didn't have the bacon, I thought that with the chicken was enough, and that was actually perfect.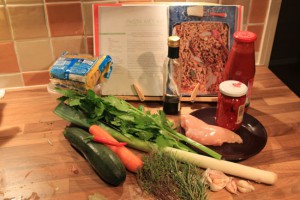 The most complicated was the ragu, you need to mix all the vegetables in a food processor, since I don't have one, I had to chop, with the help of my husband, all by hand and then bit by bit try to make something out with the small blender I have. I didn't get it so fine as it supposed to be, still I think it was good, I like to see small pieces of veggies in my plate so that was good.
In one pan I let the ragu slowly cook meanwhile I was preparing the chicken, I think it was one of the first time that the chicken was so delicious to eat, the fresh flavors were fantastic, the rosemary with the garlic, that can never be wrong, isn't?
After that you need to mix the ragu with the chicken and the pasta, I didn't, because I made quite a lot of ragu, so I could freeze for another time.
There was just one minor thing, this meal is impossible to prepare in 15 minutes, I had my husband's help and took us about 45 minutes. If one day I have food processor I wonder if still I can manage to make in that time, I will let you know!
Even that took longer to prepare that what in the book says, I am definitely going to make again, it is healthy, taste delicious and you can combine with other vegetables that you might have at home, so perfect to empty your fridge and don't have food wasted.