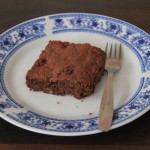 This recipe I got from an ex-colleague of mine years ago. I still keep using it, only some times I change some things. Normally you use 300 gr. dark chocolate, but I make it how I feel it, so some times I do 150 gr. dark/150 gr. milk or other way. The important thing is to keep the quantity on 300 gr. Also I like a bit lighter so I add a teaspoon of baking powder, that was not in the original I got from her.
So these are the ingredients I use most of the times:
200 gr. dark chocolate
100 gr. chocolate with milk
175 gr. butter
150 gr. caster sugar
4 eggs (beaten)
2 tablespoon vanilla extract
125 gr. flour
1 teaspoon baking powder
2 tablespoons cacao powder
75 gr. chopped walnuts
In a glass bowl put the chocolate and the butter in small pieces. Then take a pan with water and set to cook, put the bowl in the pan, the bowl must not touch the water. Let the chocolate and butter melt completely, don't allow the chocolate to cook. When is ready, leave to cool down a bit.
Then add the sugar, vanilla and eggs to the chocolate bowl, mixing all well Sieve the flour and baking powder, then add the cacao and walnuts, mixing all together very well. Scoop the mix into a baking tin (35x24x5) and bake in a 150 degrees preheated oven for about 45 minutes.
If you like you can decorate with some melted white chocolate. Serve plane of with ice cream, anyway is delicious!