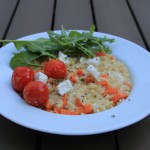 What can I say about risotto that I haven't said before? Actually not much, we just love it and it has become my speciality, I like to try new combinations with different kind of vegetables and of course cheese, normally you would think parmesan but why not goat cheese? The soft goat cheese that is sold here in The Netherlands is perfect for a risotto, gives a different taste, I use normally the one with honey, and that sweetness with the savory is fantastic. 
The ingredients you need for 3 people are:
250 gr. risotto rice
1.2 l. vegetable bouillon (stock)
125 ml. white wine
1 big carrot, peeled and diced
1 big onion, chopped
1 lemon, only the zest
A bunch of fresh thyme leaves
40 gr. butter
100 gr. goat cheese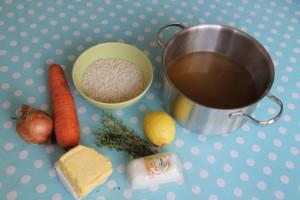 Set bouillon to warm up, once is boiling just keep in a low fire warm to use when needed, small tip, I always put the diced carrots into the bouillon, that way they will be softer and creamy like the risotto. Then put about 20 gr. butter in a pan, once melted stir the onions and bake until nice and golden. Add the carrots, half of the thyme leaves and half of the lemon zest, cook for about 10 minutes.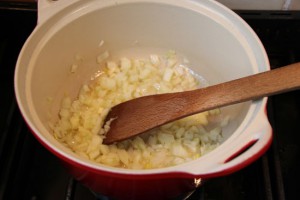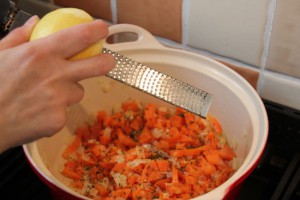 At this point you can add the risotto rice, mix all well, cook for 1 minutes until the rice starts to be glazed, blush with the wine, stir well, when all the wine is evaporated add the bouillon one spoon at the time, it is important that you keep stirring and adding the stock slowly, this will take about 20 to 25 minutes, until the rice is soft.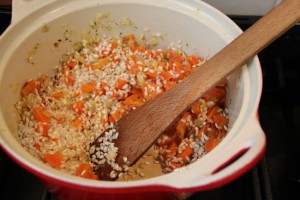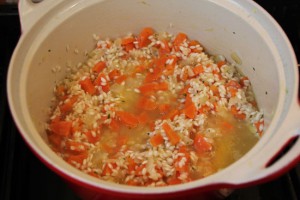 Once the rice is ready take the pan out of the fire, add half of the goat cheese and 20 gr. of butter, mix all well, cover and let the risotto rest for 5 minutes. Serve with the rest of the thyme leaves and cheese, also it is nice with some roasted tomatoes and rocket leaves. Perfect with a good dry white wine.