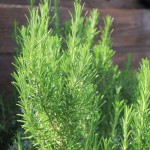 A few years ago I planted a small rosemary plant in my garden, it was really small, I never thought that will be so big as is now and I am actually very happy with that, because rosemary is a beautiful plant, that in the spring will give you some flowers and of course is a great taste maker in your meals as well as very healthy, full vitamins and nutrients. So you have it all for your garden, plus the advantage for your food, what else do you need?
Rosemary is a traditionals herb from the Mediterranean countries but nowadays you can find almost everywhere, even here in The Netherlands I can use all year round and that is great because Rosemary has quite some benefits for your health due to the vitamins and proteins that contains, for a portion of 15 gr. dried rosemary there is:
Vitamin A: 0.05 mg
Vitamin B1: 0.07 mg
Vitamin C: 9.00 mg
Sodium: 8 mg
Potassium: 150 mg
Calcium: 195 mg
Iron: 5 mg
Fibers: 3 g
Proteins: 0.7 g
Carbohydrates: 6.8 g
Fat: 2.4 g
Well as you can see there is a lot benefit in using this herb in your meals. You can use endless fresh or dried. I prefer fresh but maybe because I have it very good in hand. It is perfect for sauces like bolognese by the pasta, also to grill meat in your oven or barbecue, will give that extra aroma and will enrich the taste.
Just click on here to see the recipes where I have used rosemary.