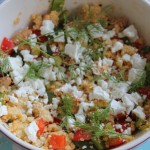 Spring and summer are ideal for salads, fresh and healthy, but there are also warm salads that are good for those days when the sun is less bright, like this recipe where you have warm turkey and warm couscous, perfect for a lunch but also for a lighter dinner, serving with self made tzatziki, there you have the greek salad. You can include any vegetables or salad leaves that you have at home, here is my version. 
Ingredients for about 3 people:
200 gr. couscous
500 ml. vegetable stock (bouillon)
1 red bell pepper, diced
1 yellow bell pepper, diced
1 red chili pepper, chopped
3 spring onions
300 gr. turkey breast, diced
1 tsp. dried oregano
1 tsp. cayenne (pimenton)
1 lemon, zest and juice
Fresh dill
30 gr. feta cheese
200 gr. greek yogurt
1/3 cucumber
Fresh mint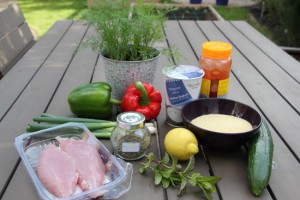 The first thing to do is marinate the diced turkey breasts, put them into a bowl and add the oregano, pimeton, salt, pepper, zest and juice from half lemon and 2 tbs. olive oil, mix all well and let it rest meanwhile you prepare the rest of the ingredients.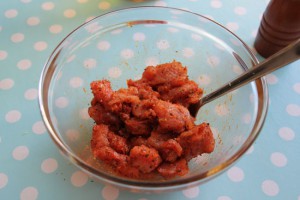 Now you can prepare the tzatziki, rasp 1/3 of a cucumber, squeeze as much water as possible, then in a smaller bowl mix with the yogurt, a few chopped mint leaves, the juice of half a lemon, salt and pepper. Let it rest in the refrigerator until the meal ready.
In a pan heat some olive oil and bake the turkey together with the chili pepper, make sure the turkey is well done. After that you can add the red and yellow pepper, bake for about 5 minutes.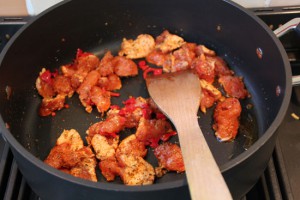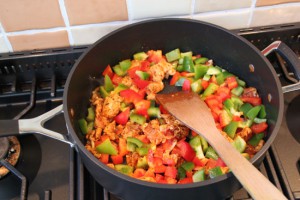 Meanwhile prepare the couscous, in a small pan set the bouillon to boil, turn off the fire, scoop the couscous, stir well, cover the pan and let it rest for about 5 minutes. In the pan where the turkey is add the spring onions just to warm up a bit.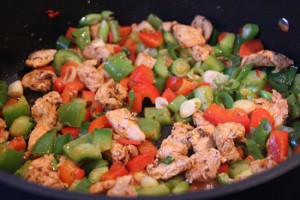 In big serving bowl mix the couscous with the turkey mix, add the feta cheese and some chopped dill. Serve with the tzatziki and some bread. Perfect warm or cold. You can also use chicken instead of turkey.