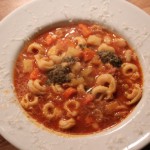 Minestrone soup is a fantastic meal because you can put anything you can find at home, from carrots to peppers, celery, leek, any vegetable is good. If you look in books or websites everybody has a different one, you have them just with stock or like this one with passata. It is an endless combination meal and if you make a lot, you can freeze and then the second time taste even better. 
For my minestrone version these are the ingredients (of course all flexible) for about 6 to 8 people:
75 to 100 gr. pancetta in very small pieces
1 chopped onion
4 chopped garlic cloves (sometimes I put even more)
1 or 2 diced carrot
2 or 3 diced potatoes
2 or 3 celery sticks, cuted in small pieces
1.2 liter vegetable stock
700 ml passata
250 gr. cheese tortellini (other tortellini is also good)
1 pot white beans (about 400 gr.)
Basilicum pesto
Grated parmesan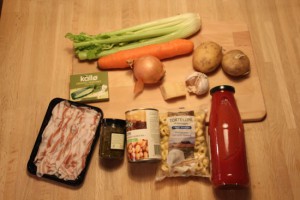 The first thing I recommend you to do is the vegetable stock, put about 1.3 liter water to cook with 2 stock cubes, when starts boiling add the carrots and let them simmer for about 10 minutes, that way they will be softer. Then using a big heavy pan, add some olive oil and bake the pancetta, onions, garlic, celery and the carrots that were simmering in the stock for about 5 minutes, allowed the vegetable to get a bit soft.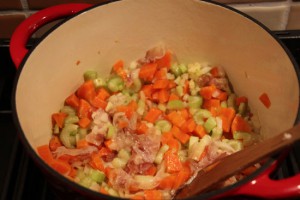 After that add the stock, passata and the potatoes, let simmer for about 15 to 20 minutes, the potatoes need some time to be ready. Meanwhile in another pan you can cook the tortellini.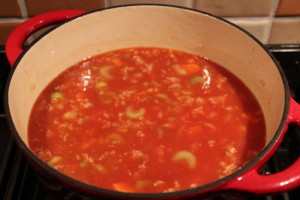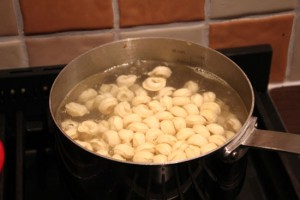 When the tortellini are ready drain them and stier them into the soup together with the white beans, let simmer for about 3 minutes, just to let the beans to warm up. Stir about 125 gr. basilicum pesto into the soup. Serve with some more pesto and the grated parmesan, of course a ciabatta bread is also very good on side.