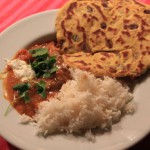 Who doesn't like Chicken Tikka Masala? I think everybody love it. I have eaten a few times using those ready sauces from the supermarket, they were not great but the taste was almost as the real thing. Finally in Jamie's Comfort Food it was the perfect recipe, actually one of the less complicated recipes from the whole book, still quite elaborate, but absolutely fantastic in taste.
Be prepared for the long list of ingredients you need for this Tikka Masala! Ground cloves, ground cumin, sweet smoked paprika, garam masala, lemons, ginger, garlic, yogurt, chicken breasts, green, yellow an red chillies, onions, fresh coriander, ground coriander, turmeric, ground almonds, tins of plum tomatoes, chicken stock cube and coconut milk.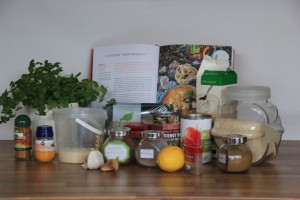 Once you have gathered all of it, you can start preparing the marinade for the chicken since to make sure taste fantastic you need to do at least 6 hours marinade, according to my experience of course. First you roast the cloves, cumin, paprika and garam masala a bit in a pan, after that you will put into a large bowl adding the lemon zest and juice, garlic, grated ginger, yogurt and salt.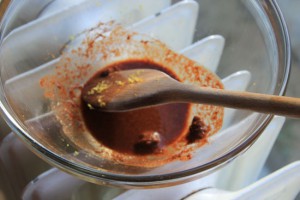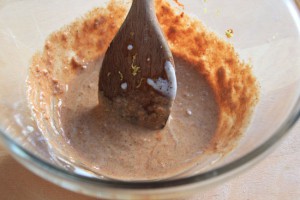 From here I changed a bit the recipe from the book, since I didn't put the chicken in skewers, after dicing the chicken I just put all into the bowl adding later some red chillies, scooping until is well mixed, leaving to rest in the refrigerator for a few hours.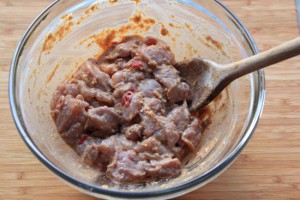 When finally was time to make dinner I made the sauce. Cooking the chopped onions, garlic, some more red chilies and coriander stalks for about 20 minutes. Beautiful colors in the pan!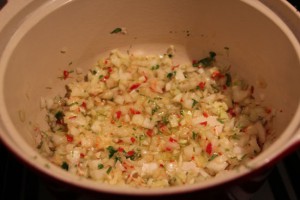 Then you can add the ground coriander, turmeric, some more smoked paprika, garam masala and the ground almonds. After a couple of minutes you can pour the tomatoes, the stock cube and some boiling water, 5 minutes after that the coconut milk and let it simmer for quite a while, according to the book 20 minutes, but I had to let it cook for about 40, otherwise it was too moist.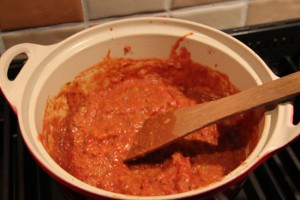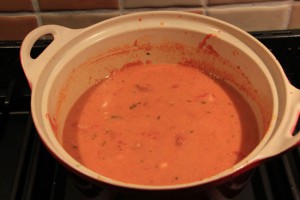 At this point you can grill the chicken, I don't have a grill pan but a very heavy steel pan, so I made there the chicken and it was quite good. The smell in house with all the aromas was hypnotizing almost. You can serve with white rice and naan bread. I also made the naan bread for the first time following a Paul Hollywood recipe, but that's another story …