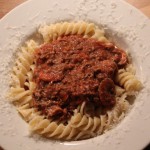 Pasta Bolognese must be one of the most populars sauces there is, everybody has his/her own way of making and of course I also have mine. The basic is like any bolognese, minced meat and tomatoes, what it makes different from the rest are the spices/herbs that I use plus of course I also add some vegetables, to make it a bit more healthy. Normally I made a big pan, so sauce for 6 people, that way I can freeze the half to eat another time when we don't have much time to cook. 
About the ingredients, the vegetables I just use whatever I have at home, I use this sauce many times to empty my refrigerator, but normally paprika's and champignons are included. What you need for 6 people portion are:
300 to 400 gr. minced meat
700 ml passata
4 to 5 tsp. tomato paste
1 chopped onion
5 garlic cloves
350 gr. mushrooms in slices
1 sweet paprika in dices
2 to 3 tsp. ground cumin
2 to 3 tsp. dried rosemary
2 to 3 tsp. dried thyme
4 fresh rosemary sprigs
250 gr. pasta (for 3 people)
Parmesan cheese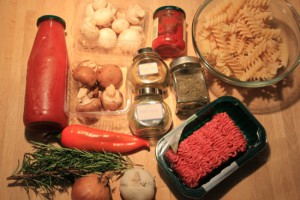 To start in a big heavy pan bake the minced meat, depending on how fat is you might need to do so with some olive oil, in The Netherlands is the meat quite fat, so I don't use oil. Add the ground cumin while the meat start to bake, add the onions and garlic, when the meat is almost done add the mushrooms and paprika, bake all together on a low fire.
When the meat and vegetables are ready stir the passata and the tomato paste, mix well add the dried thyme and rosemary, season with some salt. Let slowly to cook, add the the fresh rosemary, cover the pan and let it simmer for about 20 to 30 minutes. Stir every now and then.
Meanwhile make the pasta following the instructions on the package. When the sauce is ready, take the rosemary sprigs, check if the sauce needs salt and then add. Serve together with the pasta and some grated parmesan. We normally eat with a ciabatta bread and of course with a good red wine. It is an absolutely winner and kids will love.