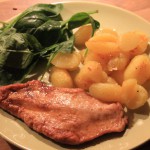 On Friday's normally is only the 2 of us at home for dinner, so I try to find simple recipes but still delicious and of course full of vitamins. This Speedy Scalopine from Nigella from her book Kitchen is one of those. Very simple to prepare and depending on the vegetables/salad you use, can have a lot of vitamins, the great taste comes from spices you use in the scallop, just perfect. 
The ingredients are quite easy to have at home, standard actually, flour, mix spices, cayenne pepper, small turkey scallops, garlic oil and lemon. I couldn't find scallops in my supermarket so I had turkey fillets, also good of course and since I don't have garlic oil I used just chopped garlic when baking, same principle, I guess.
According to the recipe you could serve this meal with gnocchi, but I used instead very small potatoes and a simple spinach salad, you could also have green peas or other vegetables on side, what you prefer.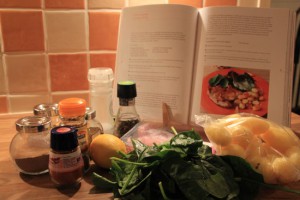 Then the preparation of the scallops couldn't be easier, just mix all spices with the flour in a bag and then add the scallops, shake and mix.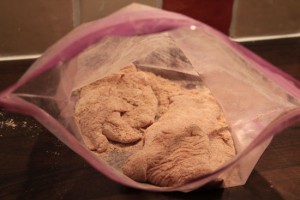 The baking is very short, 4 minutes per side. Meanwhile I made some small potatoes, first I cooked them in water and after that, I baked them in olive oil until nice and golden, seasoned with salt and pepper. Actually the process of the potatoes takes much longer preparation that the scallops.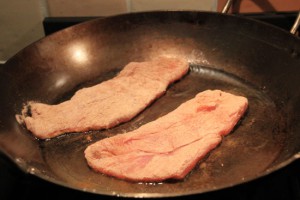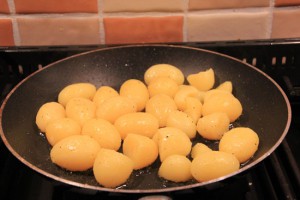 Once all ingredients are baked is just a matter of assembling a nice plate, serving with the spinach salad. We had some white wine and bread as well, that way is your meal complete. Easy, simple, delicious and still you get some vitamins!