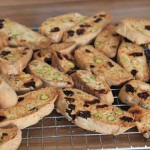 Biscotti's, who doesn't know them? They are the perfect treat to have together with an espresso, it is absolutely delicious, even the coffee taste better because it brings the aroma's together. I am sure that you have tried them with almonds, that is the most typical one, but if you haven't tried this version from Nigella, you should definitely do so.
The cranberries and the pistachios are so exotic that will give a very special taste. The ingredients, very easy ones that even you might have at home, sugar, flour, eggs, baking powder, orange, nutmeg, pistachios and cranberries, it is a matter of follow the instructions.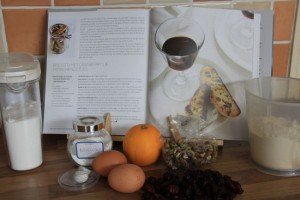 The easiest part is just to mix all the ingredients and to whisk the eggs to the right way the best is to use a mixer, thanks I have one, otherwise it will be quite difficult to get a kind of mousse out of them. After that you can mix the ingredients getting something like on the picture, and preparing some kind of ciabatta form cake.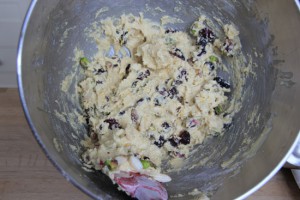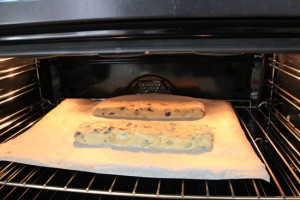 The baking then is quite tricky because you need to bake twice , that is the reason is called biscotti. First you bake in that way after that you have to cut and bake again in slices. Actually I had to open my oven 4 times to change positions of the cake.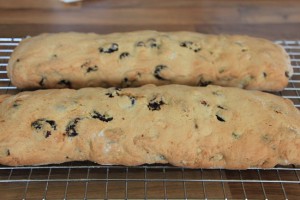 Above you can see the picture after the first 2 rounds of baking. They already have a good color. I always made double of what in the recipe is mention, that way we can enjoy longer. Also last year I've prepared as Christmas presents for the family everybody was very happy with that. It is one of our favorites!